Clock Repair & Restoration
We service everything! From the smallest ladies wristwatch from the 1950s to massive 200 year old grandfather clocks, and we restore antique to modern jewelry of all precious metals.
Whether you have an antique clock with great sentimental value or have purchased a old timepiece with the intent to pass it down through generations, we have the ability to restore your treasured heirloom to its original splendor. We use the utmost skill and care on every job vowing not to make any unnecessary alterations. We offer case repair, restoration, dial refinishing and bezel polishing
From antique to modern grandfathers to the finest of french mantel clocks, we have the experience and expertise to keep your time piece running trouble free for years to come.
---
Atmos Service / Repair
Lititz Watch Co. is one of the few clock service centers in the area that has the expertise to repair Atmos clocks. Atmos clocks are unique, and the fact that they require the skills of both a clock and a watchmaker. The repair and setup of Atmos clocks is so critical, for instance, that the minute hand must be balanced in order for the clock to run. Lubrication is also critical. Many points in an Atmos clock, if oiled, will stop the clock. Contact us and we will be happy to discuss the specifics of your clock, including proper shipping procedures, or bring the clock into the store and we will give you a free quote.
---
Cuckoo Repair
At Lititz Watch & Jewelry, we not only repair your Cuckoo clock, but we love taking part in bringing back the enjoyment that every cuckoo clock offers. We enjoy hearing the history behind each cuckoo clock, whether it came from the Black Forest while you were on vacation, or if a family member sent it home from being stationed over seas during the war. Each cuckoo clock has its own unique story and is rich in sentimental value and at Lititz Watch & Jewelry we are proud to be part of that history and are thrilled to help you re-live that joy.
We always give free quotes (not estimates) on the repairs. So whether you are in need of a few minor adjustments, or your cuckoo clock has fallen off the wall and needs a complete overhaul, or the case needs to be repaired, we would love to be the clock shop that fixes your cuckoo clock.
---
Grandfather / Wall / Mantle Clock Repair
At Lititz Watch & Jewelry, we specialize in all types of clock repairs. We rebuild, preserve, and restore clocks, ranging from 250 years old to new. We pride ourselves on Quality and excellent customer service. Please call us at 717.627.1227 or email Ed@LititzWatch.com to set up an appointment to service your timepiece.
IN HOME SERVICE
Grandfather Clocks, Grandmother Clocks and some larger wall clocks are best serviced and maintained at your location. Lititz Watch & Jewelry provides on-site preventative maintenance and repair by appointment. We come to your home or office to service your grandfather clock, In most clocks, we remove the movement from your clock. By removing the movement we are able to get to the front, back and inside of the movement to remove most of the old dirty oil and to adequately re-oil the movement. Most clock repair companies will try to convince you that a movement can be cleaned and re-oiled without removing the movement; however this is not true. A serviceman cannot oil the front of the movement when the brass face is blocking the front of the movement, nor can they clean the inside of the movement while the movement is mounted in the case. It's just that simple. If the movement is not removed from the case of the clock, the only service you are paying for is to have someone squirt new oil on top of old dirty oil. Old oil with dirt deposits in it is an abrasive material and will wear down the soft brass parts destroying the movement.
What we do during an in home visit:
Level and secure the case
In some cases we remove the movement
Clean the movement
Re-oil the movement
Re-install the cleaned movement (if removed)
Adjust and calibrate the movement
Test the clock for accuracy
Watch & Listen the clock for any inconsistencies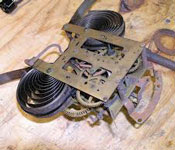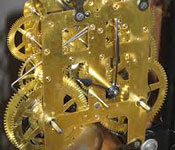 Lititz Watch & Jewelry can help you prepare grandfather clocks and grandmother clocks for long or short distance moves. We also assemble and setup clocks, which have been moved to a new location. Re-leveling, oiling and minor adjustments are included in this service.
We make in-house service calls on grandfather clocks.
---
Howard Miller Clocks - Factory Authorized Repair Center
We are the Factory Authorized Service Center for the Howard Miller Clock Company. Howard Miller products are made in Zeeland, Michigan and they are the largest grandfather clock company in the world. In addition to repairing Howard Miller Clocks, we also sell their entire line of beautiful timepieces. We have service technicians in the following areas of expertise who make house calls for your Howard Miller grandfather or floor clock.
Howard Miller wall and mantle clocks can be repaired or serviced by Lititz Watch & Jewelry. Bring them into our store for a no charge evaluation. Many wall clocks are too large to easily transport, so we will make house calls for these as well. Lititz Watch & Jewelry has been in the clock repair business for decades and have become one of the most respected clock restoration and repair companies in the northeastern United States.
Make an appointment today to repair your grandfather clock by emailing or calling us.
Watch Repair & Restoration
Lititz Watch & Jewelry is staffed with professionally trained, Expert Watchmakers that service all brands of timepieces, from Timex to Rolex. Whether it's a wristwatch, pocket watch, stopwatch, clock or any other timepiece, we have exceptional craftsmen ready to service your needs.
At Lititz Watch & Jewelry, we only carry the highest quality premium battery brand. We want to provide you with the added assurance that when your timepiece stops ticking, we will get you taken care of hassle-free and on your way in no time. Lititz Watch & Jewelry also offers a full range of services to get your favorite timepiece up and running while you shop.
Services we offer:
Battery Replacement
Watch Band Repair/Replacement
Watch Overhauls
Cleaning & Inspection
Stem & Crown Repair
Crystal Replacement
Gasket Replacement
Water Resistance Test
---
Pocket Watch Service - Antique Pocket / Wrist Watch Repair
When you start a collection of antique watches it is important to note the necessity of keeping your watches serviced. We properly service antique watches without taking shortcuts. All watches are completely disassembled and each part goes through an ultrasonic cleaning process. The watches are reassembled, oiled, a new mainspring is placed in each one, and they are monitored for proper time keeping. Finally, the cases are cleaned and the watch movements are placed back into their cases. The watches are then wound and placed in our safe for observation.
---
Rolex Repair
We offer services that are typically less expensive, while working to the same high Rolex timing specifications and using original Rolex parts. In addition to the extremely high standards that we use for our movement restoration, cases and bracelets are refinished to impeccable like new condition, using the proper brushed and high polished hand finishes. Rolex watches always receive a new mainspring and gaskets and are pressure tested for water resistance.
Jewelry Repair & Restoration
With proper care and maintenance, your jewelry will reward you with a lifetime of enjoyment and luxury. Lititz Watch & Jewelry is staffed with professionally trained, Expert Jewelers that provide a full range of exceptional jewelry repair, refinishing and refurbishment services.
Our most popular Jewelry Repair Services are showcased below for your convenience. Please visit us for a consultation and estimate for your repair needs.
Cleaning and Polishing
Ring Sizing
Stone Matching
Necklace Repair
Bracelet Repair
Pearl & Bead Restringing
Sterling Silver Repair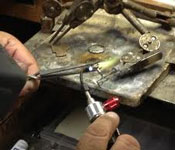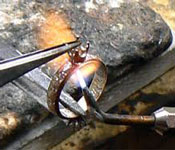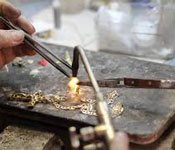 ---
We buy gold
Lying around your home is a Treasure Trove of Unwanted Gold, jewelry you no longer wear because it's broken, missing its mate, from an old boyfriend or has fallen out of style. Unwanted Silver: unpolished dust collectors hidden away, and what about the sterling flatware that only gets used once every 15 years? Lititz Watch & Jewelry has been buying scrap metals for decades. We buy scrap gold jewelry, sterling jewelry, sterling flatware, gold and silver coins.
Whether it's one class ring or a silver flatware set, we'll evaluate it in front of you, weigh it and give you a FREE no obligation estimated value for your items. You will walk out with money in hand!
Lititz Watch & Jewelry is a fair & honest family-run company that has been buying from the public for decades. You can feel confident knowing that we will get you the best value for your items.
Don't mail it, come down to our store front and meet us. We are a State Licensed Precious Metals Dealers in Pennsylvania.
Furniture Repair & Restoration
Lititz Watch & Jewelry provides fine furniture restoration and repair with craftsmanship and quality. We refinish and repair period heirlooms, as well as contemporary furnishings, architectural elements, new cabinetry and woodwork. We care about the interesting details, the intricate carvings, the well-chosen veneer and the glint of polished hardware. We want the finish to be mirror smooth and lustrous to the touch. Our policy is to ensure that your furniture is both structurally sound and beautiful to behold. Apart from all this, customer care is always paramount at Lititz Watch & Jewelry. In short, Lititz Watch & Jewelry is a cut above the usual refinisher. Free estimates on all restoration projects.
Convenient In-Store Services
Battery Replacement
Lititz Watch & Jewelry replaces over 5,000 batteries a year. In addition, we perform a water resistance test to detect leaks that can be repaired during the battery replacement process.
---
Sizing & Other Adjustments
Whether you purchased your watch at Lititz Watch & Jewelry or elsewhere, our professional staff will provide you with the perfect fit. Any watch purchased at Lititz Watch & Jewelry receives this service complimentary.
---
Polishing & Refinishing
If you wish to redeem that original shine in your watch, bring it to a Lititz Watch & Jewelry for an estimate. We are equipped with a specialized staff capable of resolving almost any issue.
---
Straps & Bracelets
Lititz Watch & Jewelry provides a diverse selection of replacement straps and bracelets for your unique timepiece. Any items not in-store can be special ordered through our service team; the possibilities are endless.
---
Mechanical Watch De-Magnetism
Is your watch running fast? Many mechanical watches are disrupted when magnetic fields penetrate the timing element. Lititz Watch & Jewelry will conduct a test and, if necessary, apply an inverse magnetic field to restore the timepiece's normal function.
---
Water Resistance Maintenance
Protect your watch from water damage. This maintenance includes the replacement and lubrication of gaskets and seals to ensure continued water resistance.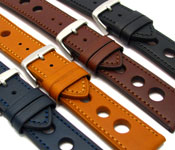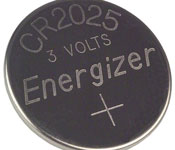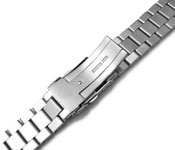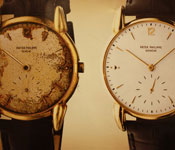 Shipping Instructions
Do not send manufacturer boxes or any packing material that is not disposable.
Do include a printed order or copy of our email correspondence outlining the work to be performed.
Do include your email address, phone number and shipping information.
Do not use excessive amounts of tape to secure the packing material to the watch. There is a risk of damaging the watch attempting to cut through the tape. If possible secure the packing material to the watch with rubber bands.
Please ship your items with delivery confirmation. This will allow you to track receipt of your package on-line We do not automatically contact on receipt of your package.
We recommend using registered mail from the U.S. Postal Service
International shippers using Fedex/UPS/DHL: you are responsible for customs duties. Please mark your waybill "bill duties to sender."
A word regarding turn around times:
We try to quote an honest time frame for your project. While there are many repairs and modifications we can execute rather quickly, movement servicing is not one of them. The movement service queue is always lengthy and I see no end in sight or practical solution to reduce the wait. Allow 60 days for movement services.
A note to local customers: We are open to the public and can accept hand delivery or pick up of your project.
---
LW&Js Shipping Info:
LW&J-Repair Department
119 North Broad Street
Lititz, PA 17543